3rd-Party ONT Add Feature Unlock Huawei OLT to support other brand ONT in Huawei OLT. If anybody Interested & want to unlock Huawei OLT contact Skype: shahed.israr
https://join.skype.com/invite/KpiZoMyGQvW8
Huawei OLT by default not support 3rd-party other brand ONT. If anybody configure other brand 3rd-party ONT in Huawei OLT. If ONT status shows offline. Also reason of offline: Insufficient ONT interoperability access license. Then you need to unlock your Huawei OLT. After OLT unlock its release lock & ONT status shows online.
I have Below OLT Unlock solution:
MA5600T/MA5680T/MA5603T/MA5683T: (SCUN/SCUK/SCUH)
MA5608T: (MCUD/MCUD1)

MA5800-X2: (H901/H902MPSC/MPSA)
MA5800-X7/MA5800-X15/MA5800-X17: (H901/H902/H903MPLA/MPLB)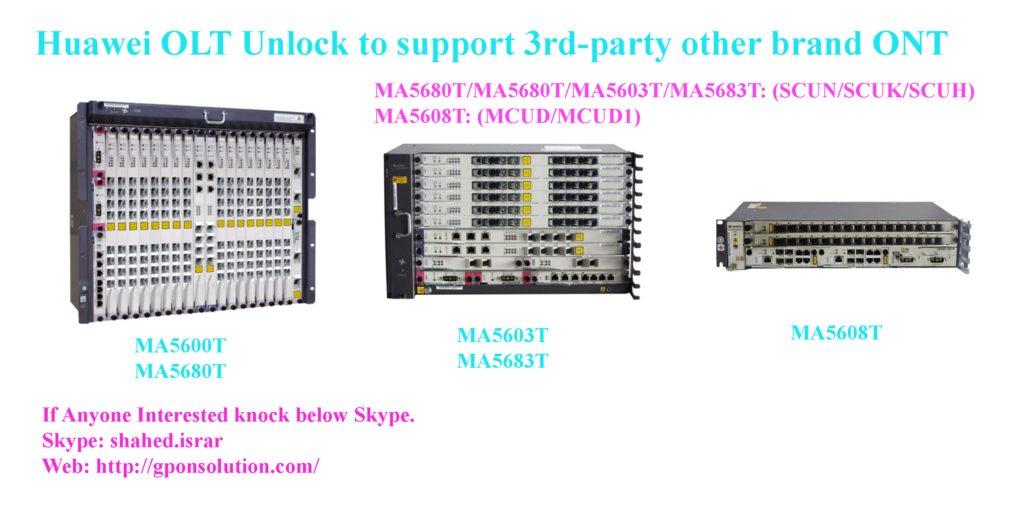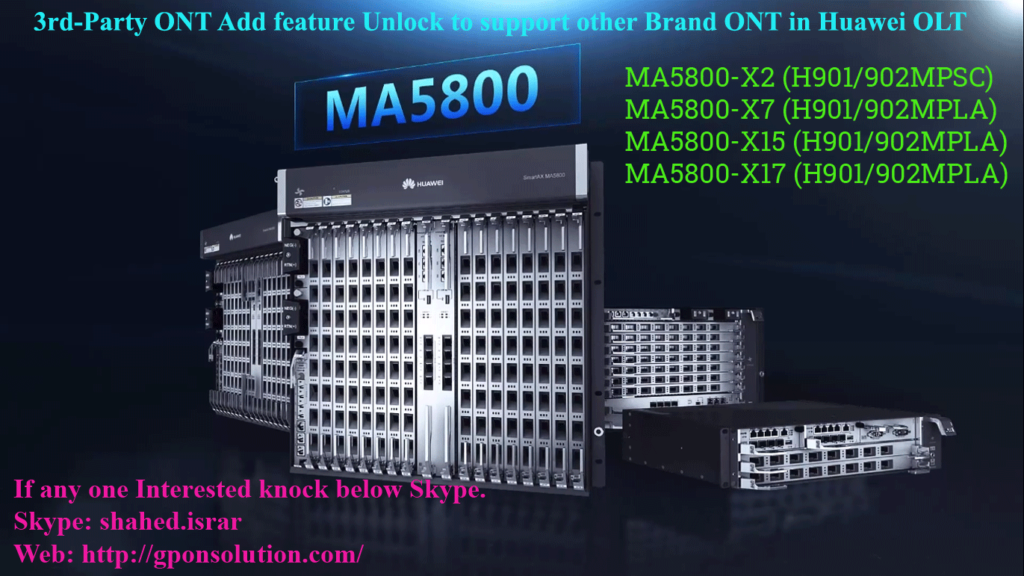 You will get ONT below status if OLT not unlocked.
MA5608T(config)#display ont info 0 1 6 0
---
F/S/P : 0/1/6
ONT-ID : 0
Control flag : active
Run state : offline
Config state : initial
Match state : initial
Reason of offline : Insufficient ONT interoperability access license
DBA type : –
ONT distance(m) : –
ONT last distance(m) : –
ONT battery state : –
Memory occupation : –
CPU occupation : –
Temperature : –
Authentic type : SN-auth
SN : 4E42454CB15A62DA (NBEL-B15A62DA)
Management mode : OMCI
Software work mode : normal
Isolation state : normal
Description : ONT_NO_DESCRIPTION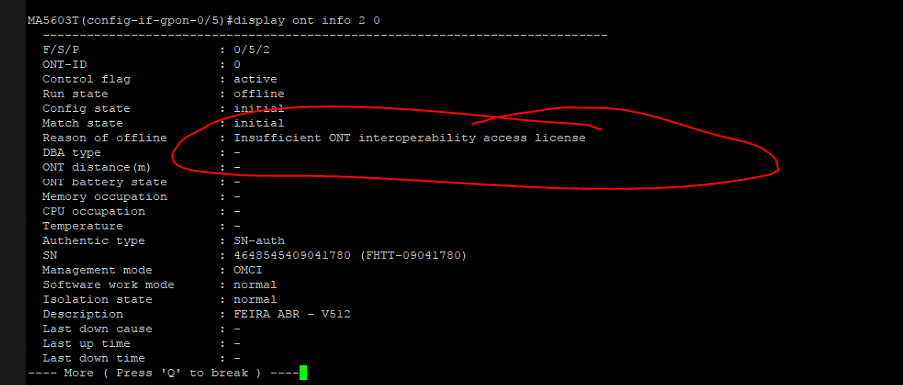 After Unlock OLT you get ONT status Online & normal like below.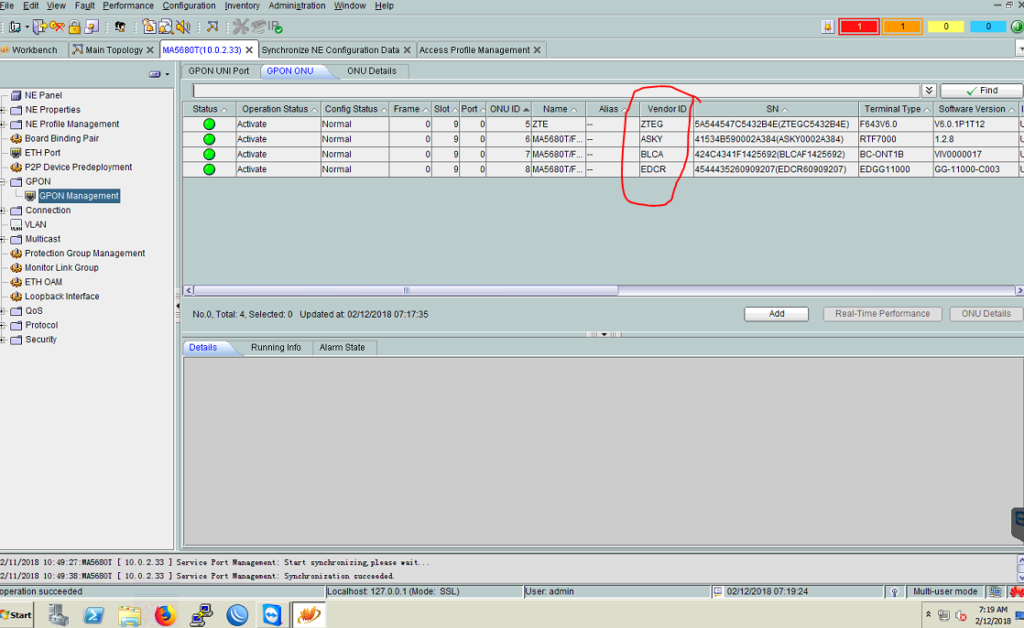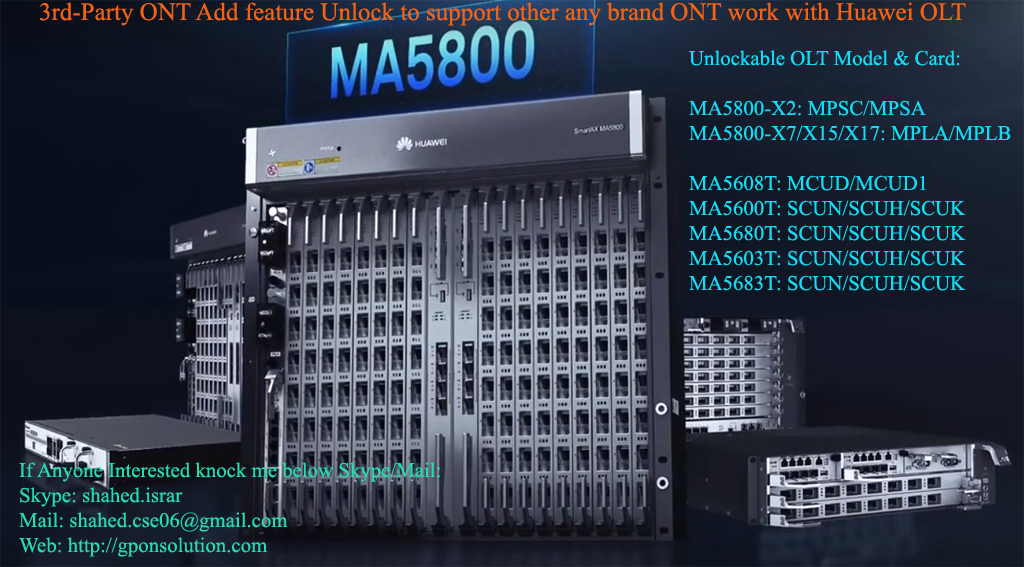 Visited 655 times, 1 visit(s) today
Comments
comments