BDCOM OLT P3310B for GPON FTTH
BDCOM OLT P3310B for GPON FTTH:
BDCOM OLT P3310B is a small scale GPON FTTH network device. BDCOM OLT P3310B has 4 fixed EPON ports & maximum coupling ratio is 1:64, covers 20 KM, which is generally deployed in central offices and premise community offices and built up network with UNI ONU through ODN. According to different user scenarios, this product can satisfy various access application requirements of FTTB, FTTC, FTTH, etc. It's the best choice for low budget EPON access network.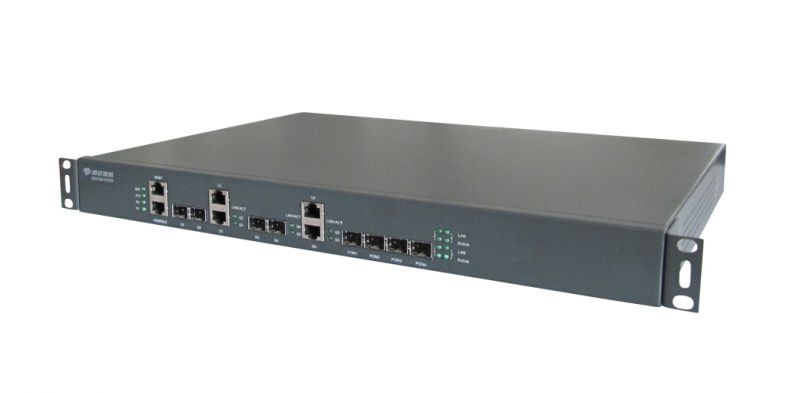 BDCOM OLT P3310B Featurs:
System's capacity

 Maximum coupling ratio, 1:64
32G backplane bandwidth
 Interface
 6 GE ports (2 gigabit RJ45 ports, 2 combo ports, 2 gigabit  optical ports)
4 fixed EPON ports
 PON interface

 A 1Gbps transmission rate with downlink and uplink symmetry
Average Optical Transmit Power: +2dbm ~ +7dbm
Light reception sensitivity of the PON port: no less than -30dBm
ONU authentication mechanism
 Standard

 IEEE802.3ah
IEEE 802.1D, Spanning Tree
IEEE 802.1Q, VLAN
IEEE 802.1w, RSTP
 QoS
 Backpressure flow control (half duplex)
IEEE 802.3x flow control (full duplex)
IEEE 802.1p, CoS
WR, SP and FIFO
Rate-limit based on each ONU
DBA and SLA
 VLAN

 Port-based VLAN
IEEE802.1Q VLAN relay
 Multicast

 IGMP v1/v2
IGMP Snooping
 Reliability

 EAPS
Optical path protection of EPON
 Security

 MAC limitation
Port isolation
Storm control
Flow-based ACL
Transmission data encryption on the PON interface
 Management

 CLI, SNMP and TELNET
TFTP and FTP
 Chassis

 442mm(W) x315mm(D) x 44mm(H)
Installation: A 19-inch cabinet
Weight: 2kg
 Environment

 Working condition: 0℃-55℃; 10%-85% no condensation
Storage condition: -40℃ to 80℃; 5%-95% non-condensing
 Power supply

 Input voltage: AC100-240V
Input frequency: 47-63Hz
Supporting redundancy power supply
Input current: 1A/230V
Power consumption: Up to 48W
BDCOM OLT P3310B Available Model:

Model
Description
BDCOM P3310B
OLT device with 4 PON ports (1 console port, 1 out-band 10/100M

port, 4 integrated PON ports (excluding the OLT SFP optical module),

2 gigabit combo ports, 2 gigabit SFP optical ports, 2 gigabit TX ports,

AC90-264V power supply, single power supply, 19-inch cabinet

shape, having a fan)

BDCOM P3310B-DC
OLT device with 4 PON ports (1 console port, 1 out-band 10/100M

port, 4 integrated PON ports (excluding the OLT SFP optical module),

2 gigabit combo ports, 2 gigabit SFP optical ports, 2 gigabit TX

ports, DC36-72V power supply, single power supply, 19-inch cabinet

shape, having a fan)

BDCOM P3310B-2AC
OLT device with 4 PON ports (1 console port, 1 out-band 10/100M

port, 4 integrated PON ports (excluding the OLT SFP optical module)

2 gigabit combo ports, 2 gigabit SFP optical ports, 2 gigabit TX ports

AC90-264V power supply, two power supplies, 19-inch cabinet shape, having a fan)

BDCOM P3310B-2DC
OLT device with 4 PON ports (1 console port, 1 out-band 10/100M

port, 4 integrated PON ports (excluding the OLT SFP optical module),

2 gigabit combo ports, 2 gigabit SFP optical ports, 2 gigabit TX

ports, DC36-72V power supply, two power supplies, 19-inch cabine

shape, having a fan)

OLT-GSFP-20
OLT SFP module, 20km, 1.25G, 1490nm TX wavelength, 1310nm

RX wavelength, SC

OLT-GSFP-20+
OLT SFP module, 20km, 1.25G, 1490nm TX wavelength, 1310nm

RX wavelength, SC, DDM
BDCOM OLT P3310B for GPON FTTH
was last modified:
October 24th, 2015
by
Comments
comments