ZyXEL GEPON OLT 1308S-22:
ZyXEL GEPON OLT 1308S-22 is a mini chassis with a Layer 2 GEPON switch featuring 8 GEPON ports (including 3 PON modules), 4 Gigabit uplink ports (2 copper and 2 combo ports) and one 10/100 Mbps Ethernet port for out-of-band management. ZyXEL's OLT-1308S-22 GEPON system (8-port GEPON Optical Line Terminal with 4-port GbE Switch) is located in the operator's central office, while different types of Optical Network Units (ONU) are located at customer premises for FTTB/FTTH connections. The ZyXEL GEPON OLT 1308S-22 is connected by a single fiber to an optical power splitter that supplies the optical signal to as many as 512 sets of ONUs (each OLT PON port supports up to 64 ONU sets). For CPE compatibility, ZyXEL provides several models for different network architecture needs. [boxads]
8 GEPON SFP open slots with DDMI support
1000BASE-PX20 SFP for 20 km distance support
2 Gigabit combo + 2 GbE SFP uplink ports compliant with IEEE 802.3/u/ab
Up to 4 trunking ports for uplinks
Support up to 64 ONUs per PON interface
Support FEC
Support AES or Triple Churning Encryption
Support 4 LLIDs per ONU
16K MAC addresses table
Management through console, Telnet, SNMP or Web management
FTP for firmware upgrades
Configuration saving and retrieving
Overheat detection
LED indicators for link status
AC/DC power input for redundancy
PON port redundancy
Hot swappable fan module and PON modules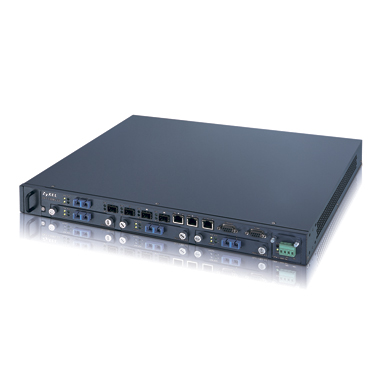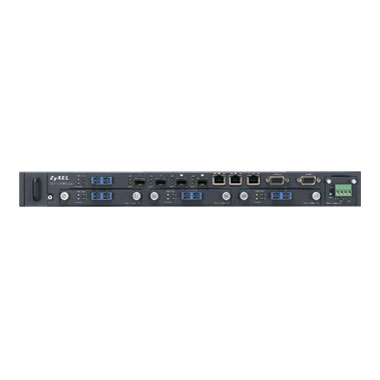 [adsense]High bandwidth
As demand for broadband services such as high-definition TV (HDTV), media-on-demand (MoD), Voice over IP (VoIP) and online gaming increases continuously, GEPON technology emerges to provide astounding 1.25Gbps bandwidth for both upstream and downstream, giving a 30Mbps bi-directional bandwidth to up to 32 subscribers each. It is a cost-effective access technology with a reliable and scalable carrier-grade Ethernet infrastructure that really addresses Triply Play service needs.
Cost-effective operations beyond initial fiber deployment
Construction of the fiber access network is the most labor-intensive task in FTTX projects and thus the most expensive. However, PON architecture requires less cost since it requires less fiber. PON networks use splitters to allow minimal fiber deployment in local loops. In addition, it requires no power between CO and network's termination that lead to lowered maintenance costs.
20 km long distance coverage
On a PON network, subscribers must be within 20 km from the CO, depending on the total number of splits (distance decreases as splits increase). The OLT-1308S-22 supports a maximum distance of up to 20 km, and users can choose the different distances ONU type for 20 km deployment to adapt to the existing network structure.
High scalability and flexibility for easy installation and maintenance
Since ONU can be added to or removed from the network architecture easily and economically, its great flexibility is perfect for the deployment of different network architectures. FTTH deploys ONU in residences, while FTTN/FTTC is the combination of fiber and existing copper infrastructure. In addition, administrators can upgrade firmware, test loopbacks and detect failures remotely. [bodyads]
ZyXEL GEPON OLT Specifications:
Standard Compliance
IEEE 802.3ah
IEEE 802.3ab
IEEE 802.3 Ethernet
IEEE 802.3u Fast Ethernet
IEEE 802.3z Gigabit Ethernet
IEEE 802.3x Flow Control
IEEE 802.3ad LACP aggregation
IEEE 802.1d Spanning tree protocol
IEEE 802.1w Rapid spanning tree protocol
IEEE 802.1Q VLAN tagging
IEEE 802.1p QoS
IEEE 802.1X port authentication
IEEE 802.11 MIB
MAC and Packet Buffer
Traffic Management and QoS
IEEE 802.1p QoS with 8 priority queues per port
IEEE 802.1Q tag-based VLAN
2K static VLAN, up to 4K dynamic VLAN
Supports to GVRP, automatic VLAN member registration
IGMP v1 & v2
User Security and Authentication
MAC filtering per port, secure access to each port
Specific MAC forwarding per port: only specified MAC addresses can access the network (per lock)
Limits to the number of MAC address per port
802.1X port-based security that prevent unauthorized client access to the network
Private VLAN provides security and isolation between ports on a switch that prevent users to snoop on each others' traffic
VLAN stacking provides CVLAN and SVLAN to help separate different user traffic for security concern and also enable the flexible VLAN usage for users
Network Administration Security
User name/Password required for Web/Telnet/local console administrators
Two-level security by specific SNMP read/write community
SSH provides network security by encryption administration traffic
Network Management
Web-based management
Telnet CLI
SNMP v1, v2c & v3
RS-232 local console
Out-of-band management
NetAtlas PON, EPON manager
Remote ONU Management through OAM Channel
Firmware upgrade
Configuration/Provisioning
Status/Alarm report
Loop-back tests
ZyXEL GEPON OLT Hardware Specifications:
2 embedded GEPON ports
3 open slots for GEPON modules, each module supports 2 PON ports.
8 GEPON SFP open slots with DDMI support
1000BASE-PX20 SFP for distance up to 20 km
Wavelength: 1.31 um for upstream and 1.49 um for downstream
4 GbE uplinks with 2-port RJ-45 1000BASE-T and 2 combo ports
One 10/100BASE-T for out-band management
1 DB9 RS-232 for craft interface
1 alarm input port
Power input:

AC: 100 V ~ 240 V
DC: -48 V

Power Consumption:

AC: 90Watt max
DC: 80Watt max

Transceiver:

Average output power: 5 dBm
Receiver sensitivity: -30 dBm [boxads]
Physical Specifications
Item Dimensions (WxDxH): 440 x 312 x 44 mm (17.32" x 12.28" x 1.73")
Item Weight: 4500 g (9.94 lb.)
Packing Dimensions: 574 x 460 x 161 mm (22.59" x 18.11" x 6.34")
Packing Weight: 6000 g (13.26 lb.)
Environmental Specifications
Operation temperature: 0°C to 45°C (32ºF to 113ºF)
Storage temperature: -40°C to 70°C (-40ºF to 158ºF)
Operation humidity: 10% ~ 90% (Non-condensing)
Storage humidity: Less than 95% RH (Non-condensing)
Certification
CE-EMC Class A
FCC Part15 Class A
CSA-International
Product Accessories
OFC-1300: Fan module
OLC-1302-22: OLT PON module, each module supports two PON ports
OPA-1300-DC: DC power module to support -48 V DC
ZyXEL GEPON OLT 1308S-22 Application Diagram: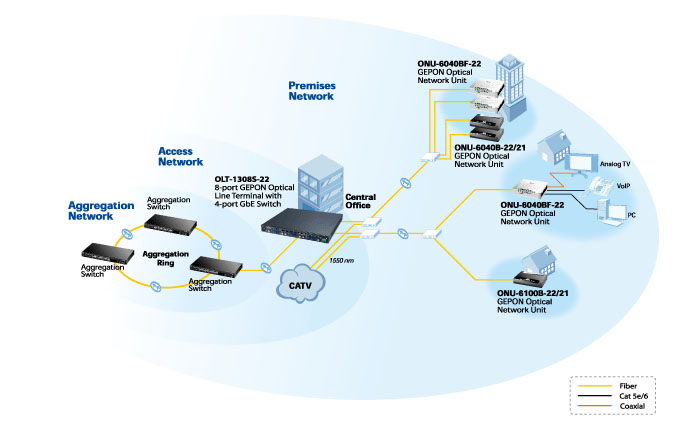 Visited 158 times, 1 visit(s) today
Comments
comments