BDCOM EPON OLT P5900 series:
BDCOM EPON OLT P5900 series includes two models: P5910 (2 slots for console panels, 2 enhanced slots and 6 normal slots) and P5916 (2 slots for console panels, 2 enhanced slots and 12 normal slots). All P5900 OLT products support the console board and the "1+1" backup of power source. P5900 OLT series can be widely applied on the networks of the carriers, EPON in the NGB upgrade of the Broadcast, TV and film system, or automatic power distribution, power-consumed information collection and PFTTH in the electric power ind.[boxads]
A single EPON card of BDCOM EPON OLT P5900 series supports 4 EPON ports. BDCOM P5916, therefore, supports up to 48 EPON ports, a maximum optical coupling ratio of 1:64, up to 3584 ONUs and a 20km transmission distance.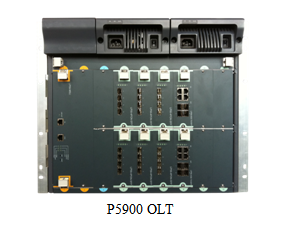 BDCOM EPON OLT P5900 series adopts the BDROS operating system whose intelligent property is owned by BDCOM, integrates with IPv6, network security, EPON, supports data, voice and video, and provides continuous forwarding, graceful restarting and ring protection, improving the work efficiency and securing the maximum running time.
BDCOM EPON OLT P5900, which has high reliability, highly dense EPON access and robust switching and routing abilities, is a new generation of broadband and multi service access OLT devices oriented towards the service-integrated network. [adsense]
KEY FEATURES:
Abiding by IEEE802.3ah, BDCOM P5900 OLT series meets relevant requirements of GEPON OLT regulated in Technical Requirements of YD/T1475-2006—EPON and China Telecom EPON Technical Requirements.
P5900 OLT products are cabinet modularized devices with high density and large capacity so they are easy for expansion and upgrade.
BDCOM P5916 has L2/L3/L4 functions, supports 352Gbps backplane bandwidth, static routes, RIP, OSPF and so on. BDCOM P6512 OLT series supports advanced functions such as QoS, bandwidth control and multicast, adding extra values to the whole network.
This series of products has high reliability. The key modules of the system like the control unit and the power source can be backed up through the "1+1" mode. Meanwhile, the Hitless Protection System (HPS) secures the high reliability of BDCOM P5900 OLT. After the redundancy control module is configured, the highest reliability can be reached. At the same time, the functions of BDCOM P5900 OLT like VRRP, STP and LACP provide further reliability.
P5900 OLT supports various interface types including GE, TE, EPON, POS and E1.
BDCOM EPON OLT P5900 supports CTC2.0/2.1 wholly, automatically detects and works harmoniously with ONUs made by different manufacturers. [bodyads]
It supports the RFC 1213 SNMP protocol. The internal network management mode adopts the Telnet-based configuration management or the SNMP-based configuration management, realizing uniform network management based on the Broad Director network management platform.
Item
Attributes
Specification
Main interface.
P5910
P5916
Expanded slot
Two slots for the console panels
Two enhanced slots
6 normal slots
Two slots for the console panels
Two enhanced slots
12 normal slots
Exchange capacity
Up to 256Gbps
Up to 352Gbps
Backplane bandwidth
Up to 768Gbps
Up to 768Gbps
Maximum number of 10-gigabit ports
4
4
Maximum number of gigabit ports
24
48
Maximum number of PON ports
24
48
EPON attributes
Supporting IEEE 802.3ah EPON standards
Supporting technical requirements of YD-T 1475-2006 access network based on EPON
Supporting EPON interconnection of YD-T 1771-2008 access network
China Telecom EPON standards–CTC2.1/3.0
Standard OAM and expanded OAM management
Supporting uplink/downlink encryption
Simultaneous registration of up to 64 ONUs
Upgrading single or multiple ONUs
Supporting DBA
Supporting the ONU authentication and the report of illegal ONU registration events
Supporting backbone optical-fiber protection, "1+1" hand-in-hand protection, full protection, switchover delay of less than 50ms
Software functions
Supported network standard
IEEE 802.1D IEEE 802.3 IEEE 802.3u IEEE802.3ad IEEE 802.3x IEEE 802.3z IEEE802.1Q IEEE 802.1P IEEE 802.1w IEEE 802.1x
STP
802.1D(STP), 802.1w(RSTP), 802.1s(MSTP)
Routing protocol
Static route, RIPv1/2, OSPF, BGP
Ipv6
IPv6 ND,IPv6 PMTU,IPv6 FIB,IPv6 ACL, NAT-PT,IPv6 tunnel,6PE,Ipv6 static route,RIPng,OSPFv3, BGP4+
Multicast protocols
IGMP, IGMP Snooping, IGMP Proxy, DVMRP, PIM-SM, PIM-DM, MSDP, MOSPF, MBGP
QoS
Having 8 queues for each port and supporting 802.1p, ToS, port ID, DifferSev, WRR, SP, SWRR, flow shaping, VLAN-ACL-based flow classification
ACL
Supporting standard ACL and extended ACL, IP ACL, and data filtration based on source/destination IP, layer-3 IP ID, layer-4 TCP/UDP ID, IP priority, ToS or time range
MAC operations
Supporting port/MAC bind, and MAC filter
VLAN type
Supporting GVRP, PVLAN and VLAN Stacking (QinQ)
Flow control
Supporting HOL block prevention, half-duplex backpressure and full-duplex IEEE 802.3x
ARP
Support
DHCP
Supporting Client, Relay and Server
Port aggregation
Supporting 802.3ad and load balance
AAA authentication
Supporting RADIUS
Port mirror
Support
Broadcast Storm Control
Support
Security
Supporting active/standby switchover, hot swap and VRRP
Network management
Console interface
CLI, WEB
Console
RS-232
Telnet
Support
SNMP
v1, v2, v3
SysLog
Support
RMON
Group 1, group 2, group 3 and group 9
MIB interface
Provide
PON interface Features
Wavelength of the optical module of the PON port
Rate
Symmetric uplink and downlink: 1.25G
Average irradiating power of the PON port
+2dbm ~ +7dbm
Optical reception sensibility of the PON port
-30dBm
Maximum optical coupling ratio
1:64
Physical specification
Relative Humidity
10%~90% no condensation
Working temperature
0°C~50°C
Power Source's Characteristics
AC power: 200-240VAC,50/60 Hz
DC power: -48V
Power redundancy
1+1 backup and hot swap
Physical size

(H*W*L)

399.2mm×315.0mm×482.6mm
399.2mm×315.0mm×482.6mm
Power consumption
300W
300W
Visited 13 times, 1 visit(s) today
Comments
comments