GPON SFP Transceiver manufacturers Company
Today i will share you GPON SFP Transceiver manufacturers Company list.
"What's your EPON ONU,OLT chipset?"
"Can your OLT/ONU work with other brand ONU/OLT?"
Broadcom, Qualcomm chipset,TK3715, QCA8821, BCM6828F, TK3721 and etc…
There are various chipset solutions and IC(Integrated Circuit) specifications on the market, when we are purchasing the FTTH PON equipment, which would be a headache problem to choose.
Main IC(Integrated Circuit) solutions of FTTH PON
Today, FOT Blog try to collect all the main current IC manufacturers and solutions for our FTTH project purchasing managers. bellow are the details GPON SFP Transceiver manufacturers Company list.
No.1 PMC-Sierra, Inc. (Strong in FTTH OLT solution)
For PMC-Sierra, success is all about networking. The company develops and markets some 730 semiconductor products designed to support the Internet infrastructures of corporations and enterprise clients, as well as the communications networking equipment industry. Its controllers, mappers, multiplexers, processors, switches, and transceivers are used in laser and multifunction printers, servers and storage devices, communications infrastructure equipment, and fiber-to-the-home equipment. OEM customers include Alcatel-Lucent, Cisco, EMC, HP, Huawei, and ZTE. PMC-Sierra sells products directly and through distributors. It is said that got a strong role in the OLT IC Chipset solution.
No.2 Marvell Technology Group Ltd. (Popular in Asia/Pacific region)
Marvell Technology Group offers digital and mixed-signal integrated circuits for data storage and broadband communications applications. Products include read channels (which convert analog data from a magnetic disk into digital data for computing), preamplifiers, and Ethernet switch controllers and transceivers. The fabless semiconductor company draws most of its sales from a few customers, including Western Digital, Toshiba, and Samsung Electronics. Marvell also gets most of its sales in the Asia/Pacific region.
No.3 HiSilicon solution. (Compatible E/GPON IC solution)
HiSilicon is a microchip manufacturer company created by Huawei, from China.
HiSilicon products cover wireless networks, fixed networks, digital media and other areas of chip solutions, successfully applied in more than 100 countries and regions; in the field of digital media, has launched a network monitoring chip solutions, video phone chip and solutions, DVB and IPTV solutions chips and chip solutions. After years' accumulation, Hisilicon has become a new challenger in PON IC Solution area.
No.4 Realtek Semiconductor Corp. (A new Challenger)
A fabless semiconductor company situated in Taiwan.Realtek manufactures and sells a wide variety of products throughout the world,
and its product lines broadly fall into three categories: communications network ICs, computer peripheral ICs and multimedia ICs.
Communications network IC products manufactured and marketed by Realtek include: network interface controllers, physical layer
controllers (PHYceivers), network switch controllers, gateway controllers, wireless LAN ICs, as well as ADSL router controllers. As a new challenger in this PON area, it's GPON solution is coming to us.
No.5 MediaTek Inc. (GPON solution)
MediaTek was originally a unit of United Microelectronics Corporation (UMC) tasked with designing chipsets for home entertainment products.The company primarily designed chipsets for optical drives and digital TVs.By early 2000, MediaTek was among the world's largest suppliers for both these products.In 2004, the company launched a new division to design solutions for mobile devices. Seven years later, it was taking orders for more than 500 million mobile system-on-chip units per annum, which included solutions for both feature phones and smart devices. After years' accumulation, Similar to Realtek, MediaTek has become a new challenger in PON IC Solution area.
No.6 TK(Teknovus) and Broadcom
Teknovus Inc.(Broadcom acquired 2010)
Teknovus, a fabless semiconductor company, designs chips for broadband access networks. It specializes in Ethernet passive optical networking (EPON) components used in networking equipment. Teknovus also develops lower-cost system-on-a-chip devices for home and business markets, making it easier to deliver Internet, video, and voice communications to consumers and companies. Teknovus has offices in China, South Korea, Japan, and the US. Most customers are in Asia, where EPON equipment is sold to both service providers and OEMs, including China Telecom, China Mobile, KT, Mitsubishi Electric, and NEC. In 2010 Broadcom acquired Teknovus for about $123 million.
Broadcom Corporation. (Famous TK37 series solution)
As a semiconductor supplier for the global wired and wireless communications industry, Broadcom's reach is far and wide. With locations around the globe, Broadcom manufactures billions of chips annually and is one of the world's leading semiconductor companies. Its system-on-a-chip (SoC) technologies and software products deliver voice, video, data, and multimedia in several major market segments: home and office (cable modems, DSL, and set-top boxes), mobile (Bluetooth and GPS), and infrastructure (controllers, embedded processors, and security). Broadcom's customer roster includes such elite technology names as Apple, Cisco, and ZTE. It also generates most of its sales from Asia.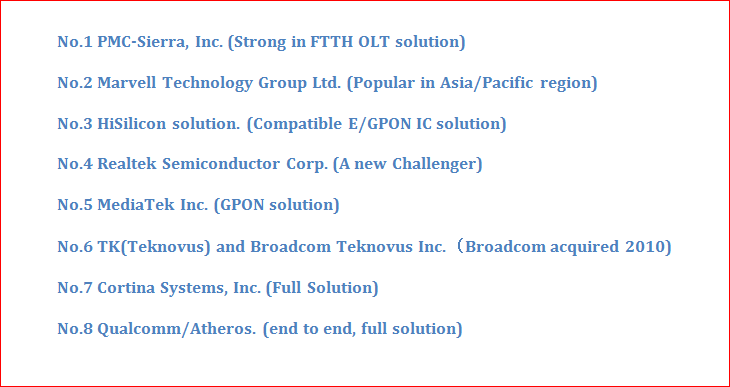 No.7 Cortina Systems, Inc. (Full Solution)
Which is a supplier of integrated circuits (ICs) for broadband communications founded in 2001 in California.
Cortina's product line spans computer and telecommunication networking: the company has products for core, enterprise, metropolitan high-speed networks, as well as products for the digital home networks. Products include:
Ethernet: 1-, 2-, and 4-port 10Gbit/s Ethernet MACs; 4-, 10-, 12-, and 24-port 1Gbit/s Ethernet MACs
Transport: 2.5Gbit/s, 10Gbit/s and 40Gbit/s FEC/OTN Framers; 100Gbit/s FEC/OTN/Ethernet Framer; 2.5G and 10Gbit/s VCAT framer
Framer: SONET/SDH POS, ATM, and GFP framer for OC-3 to OC-192 with integrated SerDes; RPR framer, RPR bridge
Access: 4-port EPON OLT, EPON ONU
PHY: 10Mbit/s transceiver; 1-, 2-, 4-, and 8-port Fast Ethernet transceivers: 6- and 8-port Fast Ethernet repeaters
No.8 Qualcomm/Atheros. (end to end, full solution)
Qualcomm Atheros is a developer of semiconductors for network communications, particularly wireless chipsets. Founded under the name Atheros in 1998 by experts in signal processing from Stanford University, the University of California, Berkeley and the private industry, the company went public in 2004. On January 5, 2011, it was announced that Qualcomm had agreed to a takeover of the company for a valuation of US$3.7 billion. When the acquisition was completed on May 24, 2011, Atheros became a subsidiary of Qualcomm operating under the name Qualcomm Atheros.Qualcomm Atheros chipsets for the IEEE 802.11 standard of wireless networking are used by over 30 different wireless device manufacturers.
Qualcomm Atheros delivers broadband access technology in the form of passive optical network (PON) technologies. End-to-end gateway solutions incorporate standards such as IEEE 802.3ah, multiple-channel, software-based, digital signal processing for the G.711 and G.729 ITU standards for VoIP, and TR-156 Broadband Forum PON standard.
Visited 24 times, 1 visit(s) today
Comments
comments