GPON OLT Overview Huawei MA5603T
GPON OLT Overview: Huawei MA5603T OLT has 2 slots for control boards, 6 slots for service boards, 1 slot for the universal interface board, 2 slots for upstream interface boards, 2 slots for power interface boards. [boxads]   Download GPON OLT Overview Huawei MA5603T Doc.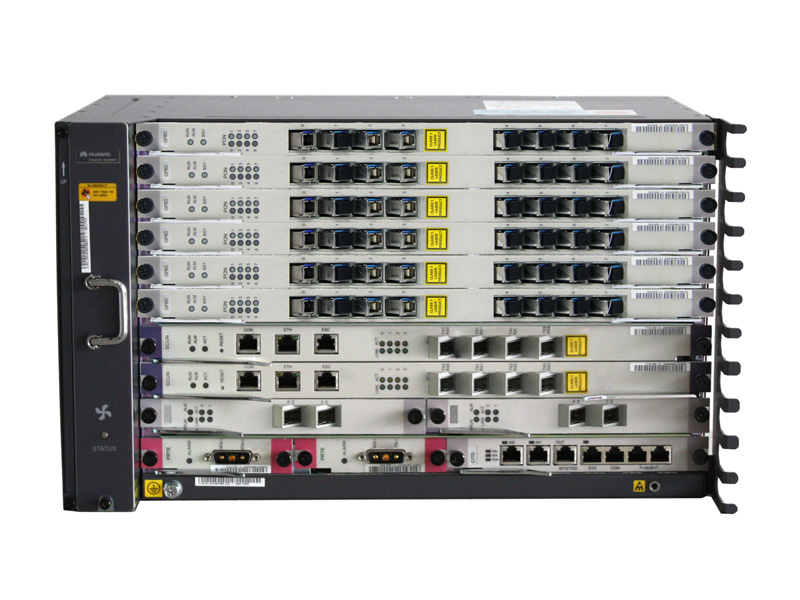 The MA5603T is a multi-service access device provided by Huawei Technologies Co., Ltd…
The MA5603T provides the integrated broadband and narrowband access and FTTx optical access services that feature high rate, high bandwidth, and high quality:
Supports broadband access services such as ADSL2+, VDSL2, and SHDSL, thereby enhancing the xDSL function.
Provides the STM-1 optical port through the AIUG board for subtending to the ATM DSLAM and converting the IPoA/PPPoA access into IPoE/PPPoE upstream transmission, thus implementing the ATM network consolidation function.
Provides the voice service solutions based on the Session Initiation Protocol (SIP), H.248, supports the POTS port, and implements the voice service, fax service, narrowband modem service, and various supplementary services.
Supports the GPON access service. The MA5603T can function as an optical line terminal (OLT) in the GPON system, working with the optical network terminal (ONT) or optical network unit (ONU).
[adsense]
MA5603T Specifications:

Item
MA5603T
Board configuration
2 slots for control boards
6 slots for service boards
1 slot for the universal interface board
2 slots for upstream interface boards
2 slots for power interface boards.
Switching capacity of the backplane bus
1.5 Tbit/s (H801MABO)
2 Tbit/s (H802MABO)
Supported control board and its switching capacity
SCUN: 480 Gbit/s in active/standby mode or 960 Gbit/s in load-sharing mode
SCUH: 960 Gbit/s in active/standby mode or 1920 Gbit/s in load-sharing mode
SCUB: 48 Gbit/s
SCUF: 128 Gbit/s
System Layer 2 packet forwarding rate
SCUN: 480 Gbit/s in active/standby mode or 960 Gbit/s in load-sharing mode
SCUH: 960 Gbit/s in active/standby mode or 1920 Gbit/s in load-sharing mode
SCUB: 48 Gbit/s
SCUF: 128 Gbit/s
Switching/Forwarding delay
Port forwarding delay: The 100 Mbit/s Ethernet port sends the 64-byte Ethernet packets at a delay shorter than 20 μs.
BER in full load
BER of a port when the port transmits data in full load < 10 e-7
System reliability specifications
System: redundant configuration.
System availability for the typical configuration: > 99.999%
Mean time between failures (MTBF): about 45 years.NOTE
Due to different network environments and different boards used by devices, the above-mentioned MTBF (45 years) of the is only for reference. The average repair time for field replaceable units (FRUs) is about 2 hours. The preceding values are only for reference. For details, contact the related Huawei engineers.
Maximum number of ADSL2+ ports in a subrack
384
Maximum number of VDSL2 ports in a subrack
384
Maximum number of EFM SHDSL ports in a subrack
192
Maximum number of TDM SHDSL ports in a subrack
96
Maximum number of POTS ports in a subrack
384
Maximum number of ISDN BRA ports in a subrack
192
Maximum number of ISDN PRA ports in a subrack
64
Maximum number of GPON ports in a subrack
96
Maximum number of 10G GPON ports in a subrack
48
Maximum number of EPON ports in a subrack
96
Maximum number of 10G EPON ports in a subrack
48
Maximum number of P2P GE ports in a subrack
288
Maximum number of upstream ports (GE ports in the GIU slot) in a subrack
8
Maximum number of upstream ports (10GE ports in the GIU slot) in a subrack
4
Maximum number of upstream ports (PON ports in the GIU slot) in a subrack
2
Maximum number of extended subracks connected to a master subrack
32
Operating environment
Operating temperature: -40°C to +65°C
Operating humidity:5% RH to 95% RH
Atmospheric pressure: 61 kPa to106 kPa
Altitude: ≤ 4000 m
MA5603T Boards Descriptions: [bodylink]
Board Type
Silk Screen
Full Name
Function
Control board
SCUB
Super Control Unit Board
-System control and management unit

-Local and remote maintenance

-Active/standby switchover

-GE channel to the service board

-Environmental monitoring parameters

-Four SFP GE ports for upstream transmission or cascading

SCUN
Super Control Unit
Board
-System control and management unit

-Local and remote maintenance

-Active/standby switchover

-Load balancing(supported in V800R011C00 and later versions)

-GE or 10GE channel to the service board

-Environmental monitoring parameters

-Four SFP GE ports for upstream transmission or cascading

SCUL
Super Control Unit
Board
-System control and management unit

-Local and remote maintenance

-Active/standby switchover

-GE or 10GE channel to the service board

-Environmental monitoring parameters

Service
board
GPBC
4-port GPON OLT
Interface Board
-Four GPON ports

-Up to 64 ONTs for each GPON port

GPBD
8-port GPON OLT
Interface Board
-Eight GPON SFP ports (one-fiber bi-directional port)

-Up to 128 ONTs for each GPON port

-Class B+ and class C+ optical transceivers

-Querying the temperature and powering off the board in case of a high temperature

OPFA
FE P2P Optical
Interface Board
-16-channels of FE optical signals

-Base station backhaul and transmission of the synchronous Ethernet clock signals

ASRB
32-port Analog
Subscriber Board
-32 channels of VoIP POTS access services

-Polarity reversal function on all the ports

-POTS metallic loop test (MELT)

-Must configuration with H806ASDA daughter board

ASPB
64-port VOIP
Subscriber Board
-64 channels of VoIP POTS access services

-Polarity reversal function on all the ports

-POTS metallic loop test (MELT)

-Must configuration with
-H806ASDB daughter board

-Automatic power shutdown in case of a high temperature

DSRD
32-port ISDN Digital
Subscriber Board
-32 channels of ISDN access services

-The H802DSRD board uses the 2B1Q encoding mode

-Automatic power shutdown in case of a high temperature

ADLF
32-port ADSL2+
over POTS Service
Board
-32-channel ADSL2+ over POTS access service (working with a splitter)

-32-channel ADSL2+ access service

-Port protection

-SELT and DELT tests

-G.992.1 Annex A, G.992.3 Annex A/L/M (EU32-EU64), and G.992.5
Annex A/M (EU32-EU64)

-Automatic power shutdown in case of a high temperature (supported in V800R009C00 and later versions)

ADIF
32-port ADSL2+
over ISDN Service
Board
– 32-channel ADSL2+ over ISDN access service (working with a splitter)

– 32-channel ADSL2+ access service

– Port protection

– SELT and DELT tests

– G.992.1/3/5 Annex B, Annex J The differences between the ADLF board and the ADIF board are as follows:

– The ADLF board supports the ADSL2+ over POTS service, and the board can work with the SPLL/SPLF board.

– The ADIF board supports the ADSL2+ over ISDN service, and the board can work with the SPLH board.

ADPD
64-port ADSL2+
over POTS Service
Board
-64-channel ADSL2+ over POTS access service (working with a splitter)

– 64-channel ADSL2+ access service

– Port protection

– 2-wire bonding

– SELT and DELT tests

– G.992.1 Annex A, G.992.3 Annex A/L/M (EU32-EU64), and G.992.5 Annex A/M (EU32-EU64)

– G.INP re-transmission at the physical layer (V800R009C00 and later versions)

– Automatic power shutdown in case of a high temperature

ADQD
64-port ADSL2+
over ISDN Service
Board
-64-channel ADSL2+ over ISDN access service (working with a splitter)

– 64-channel ADSL2+ access service

– Port protection

– 2-wire bonding

– SELT and DELT tests

– G.992.1/3/5 Annex B

– Automatic power shutdown in case of a high temperature

The differences between the ADPD board and the ADQD board are as follows:

– The ADPD board supports the ADSL2+ over POTS service.

– The ADQD board supports the ADSL2+ over ISDN service.

ADKM
64-port ADSL2+
Service Board
– 64 channels of ADSL2+ service

– Not supporting the ISDN service

– Port protection

– SELT, MELT and DELT tests

– G.992.1/3/5 Annex B, Annex J

– G.INP re-transmission at the physical layer (V800R011C00 and later versions)

– Automatic power shutdown in case of a high temperature

VDSA
24-Port VDSL2 over
POTS Service Board
-24-channel VDSL2 over POTS access service (working with a splitter)

– 24-channel VDSL2 access service

– Port protection

– SELT and DELT tests

– G.993.1, G.993.2

– G.992.1 Annex A, G.992.3 Annex A/L/M (EU32-EU64), and G.992.5
Annex A/M (EU32-EU64)

– 8b and 17a, and is compatible with 8a, 8c, 8d, 12a and 12b profiles

– Temperature query and

high-temperature  alarm

– Automatic power shutdown in case of a high temperature (supported in V800R009C00 and later versions)

VDTF
24-port VDSL2 over
ISDN Service Board
-24-channel VDSL2 over ISDN access service (working with a splitter)

– 24-channel VDSL2 access service

– Port protection

– SELT and DELT tests

– G.993.1/2

– G.992.1/3/5 Annex B, Annex J

– 8a, 8b, 8c, 8d, 12a, 12b, and 17a profiles

– Temperature query and

high-temperature alarm

VDRD
24-Port VDSL2 over
POTS Service Board
-24-channel VDSL2 over POTS

– Line protection

– VDSL2 30a profile

– Not requiring a built-in SPL, working with the SPL board

– Querying the temperature and powering off the board in case of a high temperature

VDMF
48-port VDSL2 over
POTS Service Board
-48-channel VDSL2 over POTS

-Line protection

– Querying the temperature and powering off the board in case of a
high temperature

– VDSL2 17a/8b profile

– Not requiring a built-in SPL, working with the SPL board

VDNF
48-port VDSL2 over
ISDN Service Board
– 48-channel VDSL2 over ISDN

– Line protection

– Querying the temperature and powering off the board in case of a
high temperature

– VDSL2 17a/8b profile

– Not requiring a built-in SPL,working with the SPL board

VDJM
48-port VDSL2
Service Board
-48-channel VDSL2, VDSL2 17a/8b profile

– Line protection

– Querying the temperature and powering off the board in case of a high temperature

– Compatible with ADSL2+ Annex B and Annex J

– Can not be used with ISDN service

– MELT function

SHLB
16-port SHDSL.bis
Service Board
– SHDSL.bis feature in the ATM mode and the SDHSL service in the EFM mode

– M-pairs, EFM, and EFM bonding

SHLM
16-port SHDSL.bis
Service Board
– SHDSL.bis feature in the ATM mode and the SDHSL service in the EFM mode

– M-pairs, EFM, EFM bonding, and IMA bonding

– MELT function

EDTB
E1 Digital Trunk Board
– VoIP processing of the voice service

– High-level data link control (HDLC) signaling processing of the voice service

TOPA
TDM Traffic over
PSN Board
– Native TDM function (when the NH1A/O2CE sub board is configured)

– CESoP function (when the EH1A/ CSSA sub board is configured)

– TDM signal upstream transmission through the E1 port (when the NH1A/EH1A subboard is configured)

– TDM signal upstream transmission through the STM-1 optical port (when the O2CE/CSSA subboard is configured)

CSPA
CESoP Service
Process Board
– SAToP processing of 64 channels of E1 signals

– Active/standby switchover or load sharing of the control boards

– 8 kHz clock channel from the CSPA board to the backplane, which is used to transmit the clock signals recovered from the service to the control board

– Providing one 10GE attachment unit interface (XAUI) to each control board

– Querying the temperature and powering off the board in case of a high temperature

SPUA
Service Process
Board
– Switching capacity of 40 G

– Eight GE ports and two 10GE ports on the front panel

– SFP interface

– Converging the ETH access services

– Enhanced L2 functions such as the S+C forwarding

– Supporting HQoS

– Querying the temperature and powering off the board in case of a high temperature

ETHB
Ethernet Service
Access Board
– Ethernet upstream transmission

– Ethernet subtending

– Eight SFP GE optical transceiver or GE electrical ports

– Inter-board aggregation

– Load sharing and redundancy protection

AIUG
ATM Interface Unit
Board
-Four ATM optical ports (STM-1)

– Upstream transmission over a common Ethernet

– ATM subtending upstream transmission (ATM PWE3) through a private line

SPUB
MPLS service
Process Unit Board
– 10 Gbit/s MPLS switching capability

– Unidirectional 10 Gbit/s, bidirectional 5 Gbit/s when the control boards work in active/standby mode

– Bidirectional 10 Gbit/s when the control boards work in load sharing mode(V800R011C00 and later versions)

– Active/standby switchover of the control boards

– Load balancing of the control boards(V800R011C00 and later versions)

– Automatic power shutdown in case of a high temperature

SPL board
SPLF
32-port ADSL over
POTS Splitter Board
– Separating 32-channel POTS signals from ADSL2+ signals

– The SPLF board is applicable to the POTS line, and can work with the ADLF board. The port impedance of the SPLF board is the real impedance (600 ohms).

SPLH
32-port ADSL over
ISDN Splitter Board
– Separating 32-channel ISDN signals from ADSL2+ signals

– The SPLH board is applicable to the ISDN line, and can work with the
ADIF board. The port impedance of the SPLH board is 2B1Q/4B3T.

SPLL
32-port ADSL over
POTS Splitter Board
-Separating 32-channel POTS signals from ADSL2+ signals

– The SPLL board is applicable to the POTS line, and can work with the
ADLF board. The port impedance of the SPLF board is the complex
impedance (ETSI TS 101 952 01 01 option A).

SPPF
64-port ADSL over
POTS Splitter Board
– Separating 64-channel POTS signals from ADSL2+ signals

– The SPPF board is applicable to the POTS line, and can work with the
ADPD board. The port impedance of the SPPF board is the real impedance (600 ohms).

SPPH
64-port ADSL over
ISDN Splitter Board
– Separating 64-channel ISDN signals from ADSL2+ signals

– The SPPH board is applicable to the ISDN line, and can work with the
ADQD board. The port impedance of the SPPH board is 2B1Q/4B3T.

SPPL
64-port ADSL over
POTS Splitter Board
– Separating 64-channel POTS signals from ADSL2+ signals

– The SPPL board is applicable to the POTS line, and can work with the ADPD board. The port impedance of the SPPL board is the complex impedance (ETSI TS 101 952 01 01 option A or ETSI TS 101 952 01 01 option B).

VSTL
24-port VDSL2 over
POTS Splitter Board
-Separating 24-channel VDSL2 signals from POTS signals

– The VSTL board is applicable to the POTS line, and can work with the
VDSA board. The port impedance of the VSTL board is the complex impedance (ETSI TS 101 952 01 01 option A).

VSTH
24-port VDSL2 over
ISDN Splitter Board
– Separating 24-channel VDSL2 signals from ISDN

– The VSTH board is applicable to the ISDN line, and can work with the VDTF board. The port impedance of the VSTH board is 2B1Q/4B3T.

VSPHA
64-port VDSL2 over
ISDN Splitter Board
– Separating 64-channel VDSL2 signals from ISDN signals

– Supporting ISDN (2B1Q/4B3T) complex impedance.

VSNLA
48-port VDSL2 over
POTS Splitter Board
-Separating 48-channel VDSL2 signals from POTS signals

– Supports complex impedance (ETSI TS 101 952 01 01 option A)

VSNF
48-port VDSL2 over
POTS Splitter Board
– Separating 48-channel VDSL2 signals from POTS signals

– Real impedance (600 ohms)

Clock
board
CITD
Combo Interface
Transfer Board
-Seven inputs of alarm digital parameters and one output of digital controlling parameters

– External monitoring Ethernet port to transparently transmit monitored data

– When configured with the BITSB clock daughter board, the CITD board also provides the following functions:

– Two inputs of 2 Mbit/s or 2 MHz BITS clock signals
– Two inputs of 1 PPS+TOD time signals
– One output of 2 Mbit/s or 2 MHz clock signals
– Two outputs of 1PPS time signals(supported in V800R011C00 and later versions)

Upstream
interface
board
GICD
4-port GE Optical
Interface Card
– Upstream transmission or cascading

– Four SFP GE ports

– Intra-board aggregation and Inter-board aggregation

GICE
4-port GE/FE
Electrical Interface
Card
– Upstream transmission or cascading

– Four GE electrical ports

– Intra-board aggregation and Interboard aggregation

GICF
2-port GE Optical
Interface Card
– Upstream transmission or cascading

– Two SFP GE ports

– Intra-board aggregation and Interboard aggregation

X1CA
1-port 10GE XFP
Optical Interface Unit
Board
– Upstream transmission or cascading

– One 10GE optical port

– Intra-board aggregation and Interboard aggregation

X2CA
2-port 10GE XFP
Optical Interface Unit
Board
– Upstream transmission or cascading

– Two 10GE optical ports

– Intra-board aggregation and Interboard aggregation

X2CS
2-port 10GE Uplink
Interface Card
– 2 10GE upstream ports

– 10GE synchronization Ethernet

– Intra-board aggregation and Interboard aggregation

Transfer
board
SHET
SHDSL Extension
board
converts signals between different connectors
Power
interface
board
PRTE
Connect Power Board
– One -48 V power input – Filtering and current-limiting for the power input port

– Under-voltage detection, detection of whether the input power exists, and fault detection

– Combined reporting of the protection alarm and board online signal

– ALARM indicator
MA5603T Features:[bodyads]
Classification
Feature
Access features
GPON access
ADSL/ADSL2/ADSL2+ access
VDSL access
SHDSL access
ATM access
GPON access
GPON terminal management
Continuous-mode ONU detection
MPLS
Basic MPLS functions

MPLS RSVP-TE

MPLS OAM

Graceful restart (GR) function of the LDP, RSVPTE,
and PW

Broadband L2 features
MAC address management

VLAN attribute management

Service stream processing

L2 forwarding policy

Traffic classification

VLAN switching policy

*Bridging

QoS
Priority processing

Traffic management

ACL policy

Congestion management

*HQoS

Multicast
PIM-SSM

IGMP snooping

IGMP proxy

Multicast VLAN management

Multicast program management

Multicast user management

*Multicast CAC

L2 tunnel emulation technology
*TDM PWE3

ATM PWE3

*ETH PWE3

*Terminating the SAToP service and transmitting
the service upstream through the STM-1/E1 port

Terminating the native TDM service and
transmitting the service upstream through the E1/
STM-1 port

L3 features
VLAN L3 interface

ARP

ARP proxy

DHCP relay

DHCP Option60

Static routing

RIP dynamic routing

OSPF dynamic routing

DHCP proxy

ECMP

VRF

Voice services
VoIP

– SIP

– H.248

FoIP

MoIP

Security features
User security

System security

OAM security

Line security

Network protection features
MSTP

*Smart link and monitor link

*Inter-board aggregation

Ethernet link aggregation (through the LACP
protocol)

BFD

*STM-1 protection switching

*Type-B dual-homing protection switching

Redundancy protection

OAM features
Remote operation and user management

Version and data management

Device abnormality management

*Service overload control

ETH OAM

Clock features
*IEEE 1588 V2 clock synchronization

BITS access clock synchronization

Synchronous Ethernet clock

System internal clock

Network time synchronization

Line recovered clock (E1/STM-1/SAToP)

Control board redundancy
Load-balancing mode

Active/Standby mode

System energy conservation
Energy conservation control

Energy consumption monitoring
Visited 34 times, 2 visit(s) today
Comments
comments