SCUN Control board for Huawei MA5680T OLT
SCUN Control board for Huawei MA5680T OLT is a Super Control Unit Board. It is the core of the system control and service switching and aggregation. The H801SCUN board can also function as the management and control core of the integrated network management system (NMS).  [boxads]
It communicates with service boards about the key management and control information through the master/slave serial port and inband GE/10GE channel. In this manner, the H801SCUN board configures, manages, and controls the device, and also implements the simple route protocol functions. The H801SCUN board supports the following functions: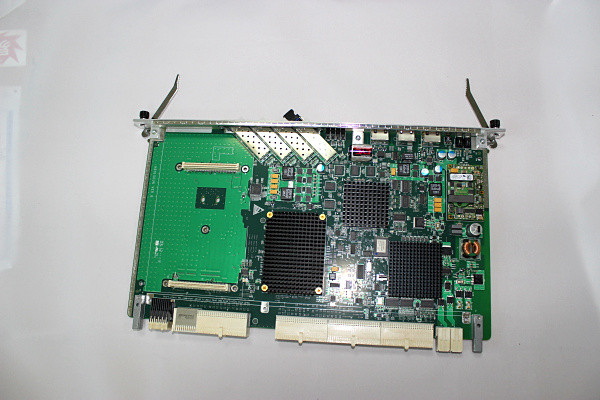 • System control and management unit
• Local and remote maintenance
• Active/standby switchover
• Load sharing (supported in V800R011C00 and later versions)
• Centric management for GE remote extended subracks in FTTB or FTTC scenarios
[adsense]
(supported in V800R012C00 and later versions)
• GE or 10GE channel to the service board
• Environmental monitoring parameters
• Four SFP GE ports for upstream transmission or cascading
The basic working principle of the SCUN board is as follows:
The control module manages the entire board and the service boards, and communicates
with the fan tray through the extended serial port.
• The power module supplies power to other functional modules of the board.
• The clock module provides clock signals for other functional modules of the board.
• The switching module provides the GE port and the 10GE port to switch and aggregate
[bodyads]
services at Layer 2 or Layer 3.
– Providing four GE ports for upstream transmission using ports on the front panel
– Providing two GE/10GE ports for each upstream boards in upstream transmission
– Providing 16 GE/10GE ports for implementing GE/10GE switching on each service
board
– Providing two 10GE ports for load sharing with the standby control board(supported in
V800R011C00 and later versions)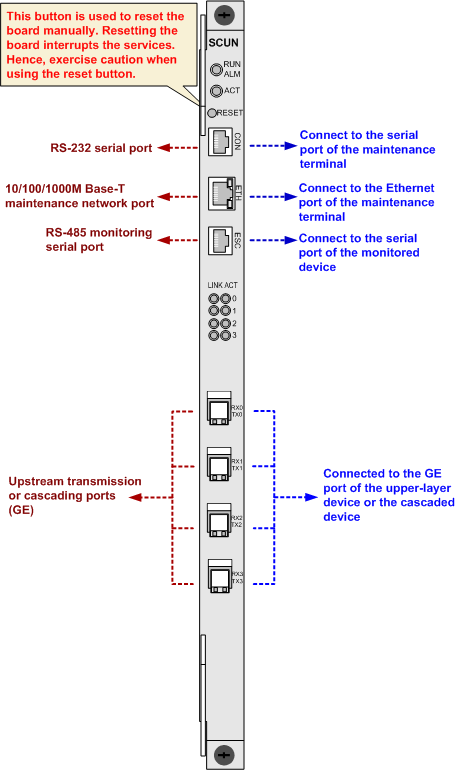 SCUN Specification and Datasheet

Model

Huawei SCUN

Port 

• Providing four GE ports for upstream transmission using ports on the front panel

• Providing two GE/10GE ports for each upstream boards in upstream transmission

• Providing 16 GE/10GE ports for implementing GE/10GE switching on each service board

• Providing two 10GE ports for load sharing with the standby control board(supported in V800R011C00 and later versions)

Relation between GE optical/electrical modules and boards

One-channel Two-fiber Bi-directional GE Optical Module

One-channel One-fiber Bi-directional GE Optical Module

One-channel Two-fiber Bi-directional GE CWDM Optical Module

GE Electrical Module

Port type

CON (RS-232 serial port)

ETH (10M/100M Base-T maintenance Ethernet port)

ESC (RS-485 serial port)

Four GE optical/electrical ports

Software Versions Supported by This Board

All the versions

Substitution Relationship

Software Versions Supported by This Board All the versions

Redundancy Backup

Active/standby mode

Load sharing mode

Daughter Board

H801FLBA

H801CKMC

H801M2XA

Dimensions (W x D x H)

25.40 mm x 237.00 mm x 395.40 mm

Power Consumption

Static: 41 W

Maximum: 62 W

MTU

2052 bytes
Visited 24 times, 1 visit(s) today
Comments
comments