Fiberhome GPON OLT AN5516-04
[boxads]
Today i will discuss about Fiberhome GPON OLT AN5516-04 model.
Fiberhome GPON OLT AN5516-04 is a Mini 2U GPON OLT, with 8~16 PON ports (1~2 GC8B), which is suitable for S&M FTTH project. It compliant with ITU-TG.984.x GPON technology standard which with high bandwidth 2.48G/1.24G; It support hot- swappable load-sharing AC/DC power modules design makes AN5516-04 easy to fit in any chassis and outdoor cabinet.

Mini OLT AN5516-04:
AN5516-04 platform produced by FiberHome is one of the most advanced FTTX equipment. The AN5516-04 is carrier class OLT equipment with large capacity. The AN5516-04 provides EPON/GPON/10G PON/P2P user interfaces and GE/10GE uplink interfaces.
Product Description:
AN5516 OLT equipment is a carrier-class 10 Gigabit PON Platform as central office equipment, which adopts industry-leading technology and supports full front card &front lines design, and high-density XPON port cards. In addition, it supports uplink interfaces on GE/10GE/STM-1/E1, which can be shared on the same platform with GPON/EPON/10G PON/P2P for sustainable evolution to make the network construction more effectively. Using high performance chips makes it cost effective, green and network reliable Large carrier-class central office equipment.
Key Features:
PON features:
Unify platform for EPON/GPON/10G PON/P2P
Sharing service cards with AN5116-06B
Up to 32 PON ports per chassis
Flexible uplink card :2*10GE+2*GE,1*STM-1, 32*E1
Synchronization features:
High precision sync-Ethernet & 1588v2
1PPS+ToD output
Reliability features:
Core card 1+1 redundancy
OSPF dual homing
STP/RSTP/MSTP ring protection
Trunk/LACP for uplink protection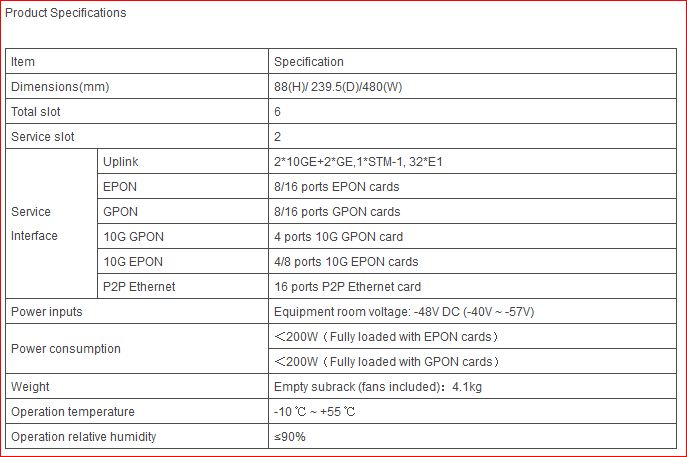 Super Access Ability:
High capacity and Density carrier-class 10 Gigabit platforms supporting 128 PON ports.
switch card capacity of 488G.
Backplane bus capacity of 800G.
Support 1*10GE+ 4*GE ,2*10GE+ 2*GE and 6*GE(optical or electrical)
Support STM-1/E1 private uplink interface.
It has capability to support split-ratio of 1:32/64/128 long haul transmission.
CLASS C+ enabled optical module.
[bodyads]
Multi-service Access:
Provide Internet, Voice, IPTV, CATV and TDM services.
Support IEEE 1588v2 protocol and 1PPS+TOD Clock interface.
Support OSPF, VRRP and RIP L3 protocols.
Common platform of EPON/GPON/10G PON/P2P for FTTX Smooth evolution.
High Reliability Optimization Design:
Standard 19" inches cabinet supporting 2 service slots.
Full front card and front lines design.
Support hot plug for all cards and PON modules.
Support redundancy error-check protection for services, controller and uplink cards.
End-to-end protection, uplink ports RSTP/LACP protection and downlink PON port millisecond level switch protection.
Green Energy:
With high performance and low power consumption chip the overall power consumption is lower than the average industry level.
8-level temperature control intelligent fan supporting free ports sleep mode and energy saving.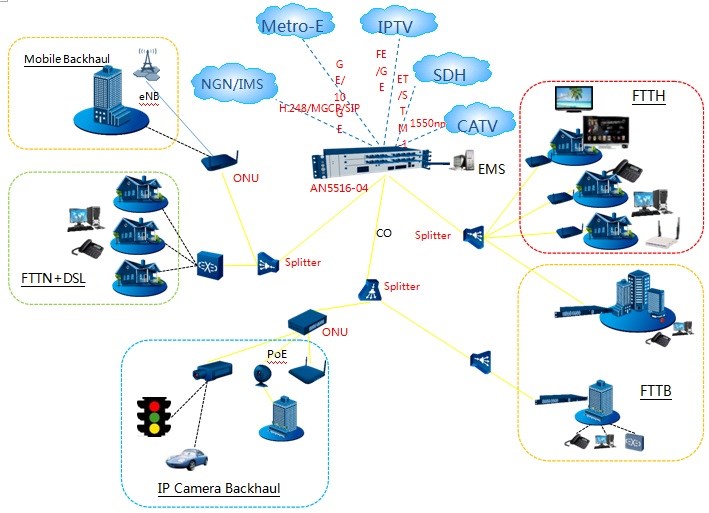 Visited 222 times, 1 visit(s) today
Comments
comments