ZTE ZXA10 C320 GPON OLT Specification:
[boxads]
Today i will discuss about ZTE ZXA10 C320 GPON OLT Specification. ZTE C320 OLT, a small size, full-service optical access convergent platform, provides carrier class QoS and reliable network to meet the requirements for small-scale implementation of FTTx services. The ZXA10 C320 can share line cards with ZXA10 C300 (ZTE existing 10U-high large-capacity OLT) and this compact OLT is able to provide up to 2,048 (splitting ratio 1:64) ONTs access.
Main Parameters:
2U high,horizontal plug card,front access
19-inch rack with 4 slot
System Capacity: 2 service card slots(GPON/EPON/P2P/10G EPON/XG-PON1)
Up to 2048 GPON subscribers access
Up to 2×10GE uplink
Physical transmission distance: 20Km
Management interface: CLI ( Telnet or RS232), SSH, SNMP V1/2/3, SNMP proxy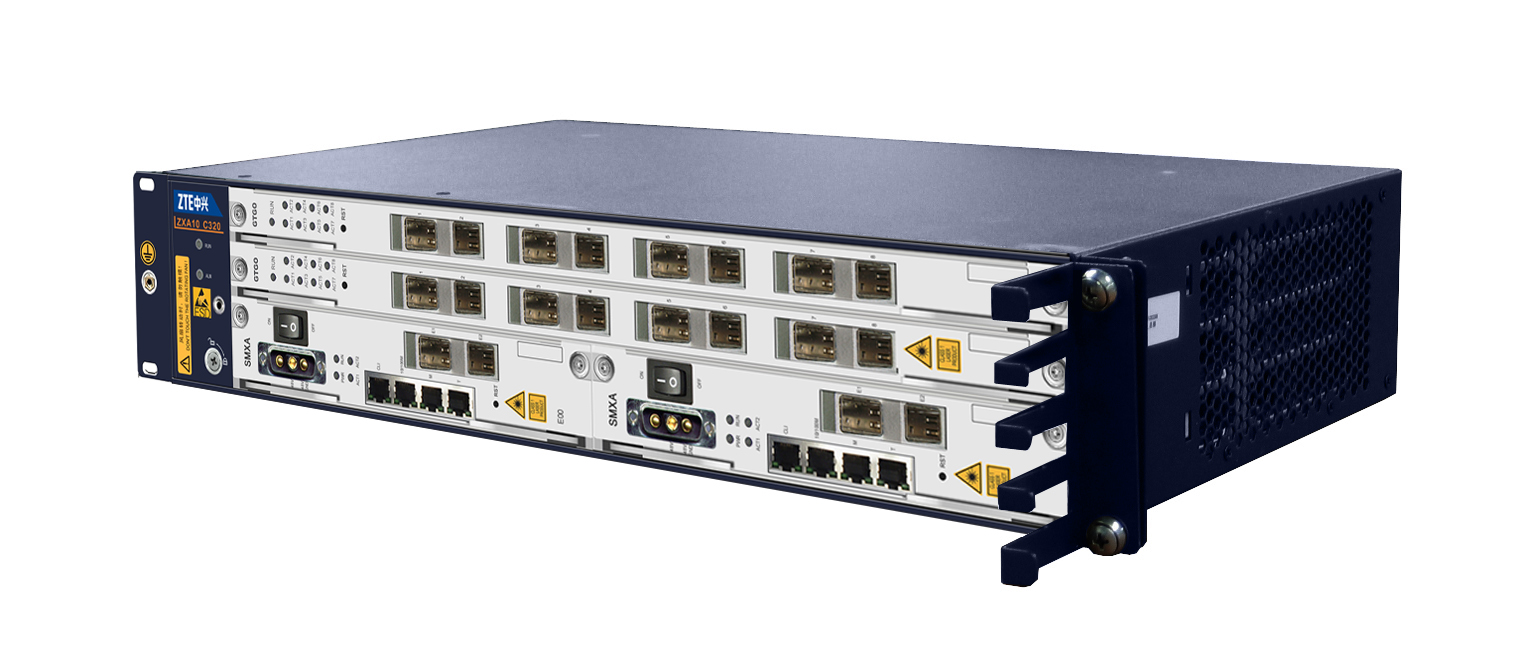 Key Features:
Compatible with ITU G.984.x
Support ITU-T G.987.x and G.988
Support Optical Laser Supervising (OLS)
Physical reach: 20~60km
GPON Transceiver power: Class B+ and Class C+
XGPON Transceiver power: N1, N2, E1 and E2
Support Type B and Type C protection
Support SR-DBA and NSR-DBA
Downstream and upstream FEC
Support AES128 encryption
Support SCB (Single Copy Broadcast)
Full G.984.4 OMCI Stack
Support migration to NG PON2
4K VLAN number, IEEE 802.1q, 1:1/N:1 VLAN, VLAN translation, VLAN Stacking (QinQ )
VRF, ARP agent/ proxy
STP/RSTP/MSTP
Link aggregation IEEE 802.3ad
DHCP server, DHCP Relay ( option 60/82), DHCP proxy, DHCPv6 L2/L3 relay agent
IPv4 and IPv6 dual stack
1588v2, 1PPS+TOD, SynE, BIT/HZ
L3 routing: IPv4/6 Statistic routing, OSPFv2, BGPv4, RIP V1/V2, ISIS
L2- L4 flow classification and ACL
IGMP V1/2/3, IGMP/MLD snooping/proxy/router
256 Multicast VLANs
IGMP pre-join and fast leave
Supported Cards:
Control & Switch Card:

SMXA: C320 switch management/uplink card (1 x NMS, 1 x Serial, 1 x 10G SFP+, 1 x GE SFP, 1 x GE RJ45, 1 x Monitoring)

Subscriber Cards:

GTGO/GTGH – 8/16 ports GPON line card
GTXO – 8 ports XG-PON1 line card
FTGK – 48 ports P2P/24 ports GE/FE optical Ethernet interface card
CTUB – 32-channel E1 unbalanced CES interface card
CTLA – STM-N CES interface card
[bodyads]
Shelf Dimensions:
2U,  86.1 mm(H) * 482.6 mm(W) * 270 mm(D)
Slot  Number:
2*main control card slots+2*line card slots
User Side Interface:
GPON/XG-PON1/P2P
Uplink Interface:
10GE/GE/FE
Power Supply:
-48V/-60V DC, 110/220V AC  with battery redundancy
ZTE ZXA10 C320 GPON OLT Advantages:
Small Size and Compact Design, Flexible Network and Fast Deployment
For GPON/EPON, supports 8 PON ports per card and 1024 ONU/ONTs per rack with 1:64 split ratio and long reach up to 20km coverage, meets all the operators' requirements for mass optical access roll-out scenarios.
Enhanced L3 routing/VPN, meets L3 networking requirements.
PON Unified Platform, Reducing TCO and Saving Initial Investments
The ZXA10 C320 adopts ZXA10 C300 hardware and software architecture, compatible with all C300 line cards, including xPON, P2P cards, greatly saving the equipment cost.
ZXA10 C320, as a unified platform, supports GPON/EPON/P2P.
Low-cost Way for Full Service Provisioning and Network Convergence
Time and clock synchronization function, supports synchronous Ethernet and TDM clock source to meet the networking and service requirements for mobile backhaul.
Supports IGMP Router/Snooping/Proxy protocols, SCB and two-level multicast duplication functions, provide reliable multicast control mechanism and abundant IPTV profiles.
IPv4 and IPv6 dual stack function, supports IPv6 service processing and forwarding, IPv6 QoS and multicast service bearing. Meets the operator's requirements for smooth network and service evolvement to IPv6.
Full Redundancy Support to Ensure Carrier-class Reliability
Key parts of the system, including the main control card, the power input, work in active/standby mode or in redundant mode, support share loading, provides high guarantee for the system.
Uplink protections include STP/RSTP/MSTP link protection, LACP/trunking balanced and redundancy,support UAPS dual homing, BFD function and L3 routing protection.
A Green Product Contributing to Building a Green Communication World
Adopts green and environmental friendly materials, with a Smart and low power consumption design, ZXA10 C320 is the leading product in the energy saving and supports ports and boards dormant mode, the platform complies power consumption requirements with Europe CoC, RoHS energy saving and environment protection standards.
Visited 283 times, 1 visit(s) today
Comments
comments