ZXA10 C220 Console password & Telnet access
[boxads]
Today i will show ZXA10 C220 Console password & Telnet access password in  CLI (Command Line Interface) configuration after logging in to the ZXA10 C220 through HyperTerminal or Telnet.
ZXA10 C220 supports the following access methods:
HyperTerminal
Telnet
NetNumen N31 NMS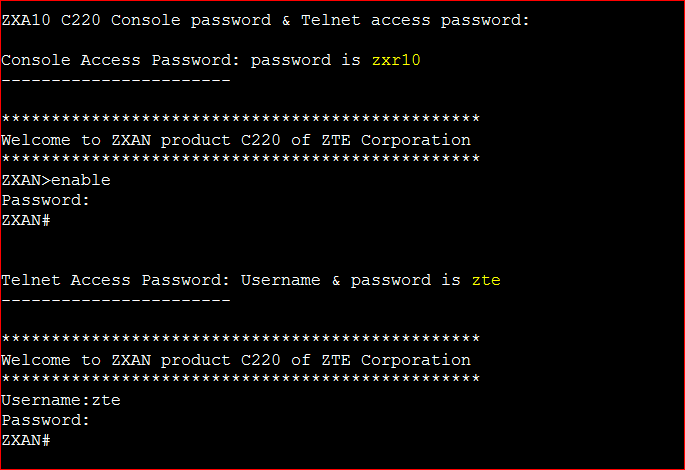 CONSOLE:
Connect the maintenance computer to CONSOLE interface on the ZXA10 C220 with a console cable
Power on the ZXA10 C220 system.
If the system runs normally, the login interface pops up. Input the command enable and the default password zxr10 to enter
the administration mode.
************************************************
Welcome to ZXAN product C220 of ZTE Corporation
************************************************
ZXAN>enable
Password:
ZXAN#
[bodyads]
Telnet:
Perform this procedure to log in to the ZXA10 C220 through Telnet.
Prerequisite:
In-band or out-of-band NM IP address is configured.
Ensure that the NM IP address can be ping through from the maintenance computer.
Context: To log in to the device through Telnet, perform the following steps:
Step-1: Open a shell window, such as Putty, xshell, ZOC etc.
Then put telnet x.x.x.x and press Enter button (x.x.x.x is in-band/out-of-band NM IP address)
Step-2: If the connection is normal, the login interface Enter zte as both username and password to log in to the system.
************************************************
Welcome to ZXAN product C220 of ZTE Corporation
************************************************
Username:zte
Password:
ZXAN#
Visited 68 times, 1 visit(s) today
Comments
comments